Mollie Glazer
Presents
Holiday & Show Tunes
Saltmarsh Senior Center
81 Washington Street Ext.
Tuesday, December 13th
4:00 – 5:30 PM
FREE Performance
To sign-up call
508-228-4490
Watch For These Other Coming Events
Dates & Times to be announced
Upcoming Winter and Spring Events
The Holiday Sale was a great success raising approximately $3,000.
August 13, 2022
The Pops at the Saltmarsh

Thanks to the Nantucket Cottage Hospital for providing a live feed of the Boston Pops from Jetties Beach to The Saltmarsh Senior Center.
It was an evening that was enjoyed by approximately 70 people who brought their own refreshments. 
Our "Old Fashioned Cookout" held on August 23rd was a great success.  Approximately 71 people attended.  Harry Mintz and his team organized and worked the event.  Thanks to all of the men who helped make this event a successful one.
Leave in Sponsored by NCEA/Friends of Nantucket Seniors with a grant from the Landmark Foundation.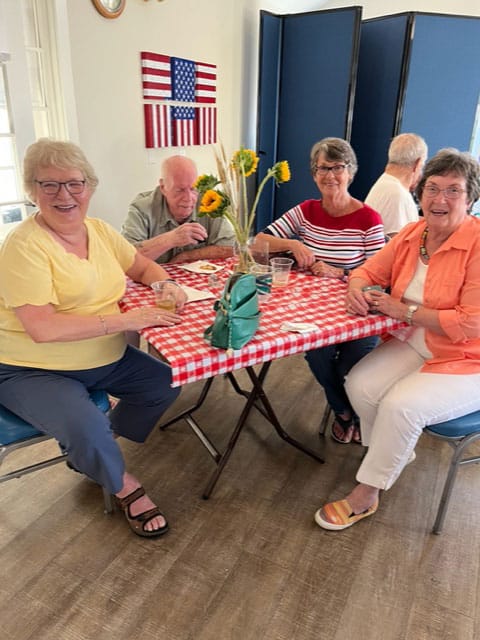 July 23, 2022
Muffins in the Morning
Underwritten by Landmark Foundation
The Muffins in the Morning was enjoyed by approximately 65 people.  It was a very hot day, so the attendees stayed inside the air-conditioned building and enjoyed the camaraderie and the art from local artists that decorates the walls.
Saturday, July 23rd 9:30- 11:00
"Muffins in the Morning"
Underwritten by the Landmark Foundation
Drop by the
Saltmarsh Senior Center 81 Washington Street
for FREE coffee and muffin on the deck
overlooking our 1st formal garden planted by
The Garden Club
Then come inside and visit our art display by local Nantucket artists.
Father's Day Breakfast
A Huge Success
A Father's Day Breakfast was held at the Saltmarsh Senior Center on June 19, 2022. One hundred people enjoyed a bountiful breakfast
The re-opening party back in April was the first time we got together in almost two years and it set the stage for this hugely successful Father's Day Breakfast.
Thank you to the volunteers who worked this event and to the guests for attending.  The Breakfast was underwritten by a grant from the Landmark Foundation which we greatly appreciate.  Thank You Landmark Foundation!
2022 Senior Man & Woman of the Year Recognition Luncheon
On June 23rd a luncheon was held to to give public recognition to 2021 & 2022 Senior Man & Woman of the Year.  Joanne Polster who was the 2021 Woman of the Year attended. Rich Leone, 2021 Senior Man of the Year was unable to attend.  The Council on Aging sends out nomination application forms with criteria for Senior Man & Woman of the Year in the Spring and they then choose from the many entries.
The 2022 Senior Woman of the Year, Barbara Kotelac and the 2022 Senior Man of the Year, Bill Grieder were in attendance.  Several speakers from the COA, NCEA, Town and State spoke of the importance of volunteering. All recipients received Citations from the State of MA, a Certificate of Recognition from the Town of Nantucket and gift certificates to a local restaurant were presented from the NCEA/Friends of Nantucket Seniors.
Approximately 90 volunteers who donate time to the Saltmarsh Senior Center attended the luncheon. Laura Stewart, Program Coordinator organized the event.
Thank you to all who made this event possible.